Will King David Rule Israel during the Millennium?
MINI STUDY
These scriptures reveal there is a book of life from which Jesus Christ will resurrect His believers when He returns. Among the resurrected will be King David. Christ will restore Israel and crown David to be shepherd and prince under Him. This gives us great hope. David was not perfect and because of his sins he was denied from building the temple 1 Kings 8:18-19. David is known as a man after My own heart Acts 13:22 and it is because of this love that he is included in the first fruits. When Jesus Christ was asked the greatest commandment He said love the Lord with all your heart and your neighbor as yourself, Matthew 22:34-40. Love is the key to salvation and is confirmed in this future resurrection of King David.


Ezekiel 34:20-24 My servant David. He shall feed them and be their shepherd.
Ezekiel 37:25-28 My servant David shall be their prince forever.
Jeremiah 30:8-10 But they shall serve the LORD their God, and David their king, whom I will raise up for them.
FULL STUDY
Israel will have a Shepherd
the voice of the bridegroom . . . there shall again be a dwelling place of shepherds . . . I will cause to grow up to David A Branch of righteousness; Jeremiah 33:11-15

Jesus Christ is our Shepherd and he will rule the world as the descendant of David. Christ will feed the flock and those of Israel that survive the Great Tribulation, Micah 5:3-4. To show the fulfillment of the Messiah being a descendant of David is why Matthew starts with a genealogy of Christ as a descendant of David.

Are the shepherds in Jeremiah 33:12 literal shepherds or priests? Ezekiel 34:2-12 makes it clear that these shepherds are priests and before Christ returns they feed themselves and not the flock. Woe to the shepherds of Israel who feed themselves. During the Great Tribulation Christ will remove and punish the false teachers and will again make Israel a dwelling place of shepherds when He returns. Don't be confused by the word Israel or Lord GOD. In the section below I include several scriptures that show that Christ is the Lord GOD who will return as Messiah. Israel is both those who are descendents of Jacob and those who spiritually become Israelites by accepting Christ as their Savior Romans 9:6-8. In John 21:15-19 Christ asks Peter to feed the flock. If he loves Christ then he will feed the flock. Peter 1 Peter 5:1-4 asks the Church to shepherd the flock. As believers we have a duty to be shepherds and to feed the flock through a message of truth and by the action of love.

David as Shepherd
In 2 Samuel 5:1-3 David is anointed king of Israel and the shepherd of the nation. But scriptures such as Ezekiel were written after David died and Pslams has prophecies such as; He also chose David His servant, and took him from the sheepfolds Psalm 78:65-72. Is this referring to Christ or to David? Notice Psalm 78:65-66 is the return of Christ. Psalm 78:69 is the establishment of Christ millennial rule in Jerusalem. David is put over the returning remnant of the lost tribes thus the word Jacob instead of Judah or Jew in Psalm 78:71. Christ has already been resurrected and when He returns David will be among those He resurrects. In Ezekiel 34:20-24 it clarifies that Christ will be Lord and under Him will be David as prince My servant David. He shall feed them and be their shepherd . . . And I, the LORD, will be their God, and My servant David a prince among them. This verse also ties into Ezekiel 34:2-12 that the previous shepherds did not feed the flock I will save My flock, and they shall no longer be a prey. So Christ brings back to life the shepherd that in Acts 13:22 says is a man after My own heart. David will be the shepherd over the other shepherds while being under Christ.
Jesus Christ will be King
When Jesus Christ returns He will rule as King of Kings 1 Timothy 6:15. Christ will sit on the throne of David Revelation 22:16. In 2 Samuel 7:12-16 is the prophecy of the Messiah and these verses have a double meaning as we will see in the next section. Not only will Christ be King, but He will also resurrect the actual King David thus establishing David's kingdom forever in two different ways. In Luke 1:31-34 (Psalm 78:65-72) we see that Jesus Christ is the one who inherited David's throne. In Hebrews 5:5-6 (Psalm 110:1-7) we find that our High Priest is Jesus Christ. In Acts 2:25-38 (Psalm 16:8-11) we find that Christ is prophesied to die for our sins. Here are several more scriptures that mention David's linage and that the Messiah will establish His kingdom and rule forever; 1 Chronicles 22:10, Psalm 89:3-4, Psalm 89:19-37, Isaiah 9:6-7, Isaiah 16:5, Jeremiah 23:5, Amos 9:11, Zechariah 12:8-9, Matthew 2:6, Matthew 22:41-46, Mark 11:6-10, Luke 1:68-69, Acts 2:25-38, Psalm 132:13-18.


There will be many ruling and serving under Christ. He will clothe her priests with salvation making His servants into priests Psalm 132:13-18. Kings and Princes will worship Christ; Isaiah 49:7, Psalm 2:10-11. There will be many sitting on the throne of David Jeremiah 17:25. The disciples will each rule as judge of a tribe of Israel Luke 22:28-30. Under Christ are priests, kings, and princes.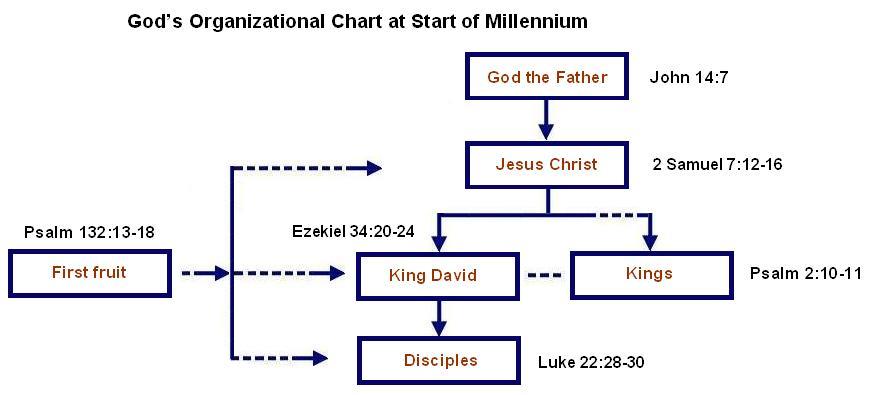 King David Resurrected
In Jeremiah 30 God says that King David will be resurrected and made King of Israel when Christ returns.
In the latter days Jeremiah 30:24.
Israel returns from captivity (during King David's life Israel was not in captivity) Jeremiah 30:3.
Christ will judge the world Jeremiah 30:23.
David resurrected and made king Jeremiah 30:9.
King David will be raised from the dead in the first resurrection. He will rule under Jesus Christ as King of Israel. In that time the descendants of Abraham who have survived the Great Tribulation will return to the land of Israel and serve the Lord. God will give these descendants the promise He gave Abraham of the land between the Nile and Euphrates. For more information about this prophecy read
Study of Future Israel - What Lands make up Israel
. In the
latter days
the tribes of Israel, which include the United States, along with spiritual Israelites Romans 9:6-8 will reject God's laws and go into exile during the Great Tribulation. They will repent and return to the Land of Israel where David will be their king Hosea 3:4-5 and Ezekiel 37:24-25.
King David will be a witness of God's mercy and a
leader and commander
to provide comfort and support for the returning remnant Isaiah 55:3-4. King David will rule in Jerusalem where Christ will raise a new temple and the center of government for the world Revelation 22:16. Christ is the Shepherd of all and David will be under Him as a Shepherd to those of Israel. With Christ as a perfect ruler Israel will finally keep the Commandments and receive the promise God gave Abraham. In Psalm 78:67 God refers to the covenant promise given to Ephraim and Manasseh. They reject God so the nations they dwell in are destroyed and after Christ returns they return to Israel. King David will teach them God's way and they will worship God.
SUMMARY
King David will become Shepherd of Israel when Christ returns Ezekiel 34:23. The previous Shepherds are rejected by God.

These rejected shepherd's are Christian ministers and leaders who have only preached Grace and have taught lawlessness. Matthew 7:22-23
They feed themselves instead of the flock Ezekiel 34:2-3.
They seek riches and do not help the poor Ezekiel 34:4.
They do not care that some have been offended and turned away Ezekiel 34:4.
Christians have gone into the Great Tribulation because they are lost Ezekiel 34:5-6.
Some teach that these references to David are really about Jesus Christ because they wish to make the resurrection of no effect and destroy our hope of salvation. The lie goes back to Genesis 3:4-5 when Satan told Eve she would not die. We need salvation and the resurrection because without this gift from Jesus Christ we will die. You can join David as a Shepherd if you love God Matthew 22:34-40. God will punish the false teachers and remove them so they may not lead His people astray again Ezekiel 34:10. Jesus Christ will return and gather the scatter remnant to Israel. Ezekiel 34:11. The sheep are destroyed on the Day of the Lord by weapons that rain down fire and cause clouds of destruction Ezekiel 34:12, 22. Jesus Christ will bless the returning remnant and they shall live in peace for a thousand years Ezekiel 34:25-31 with David as their prince.